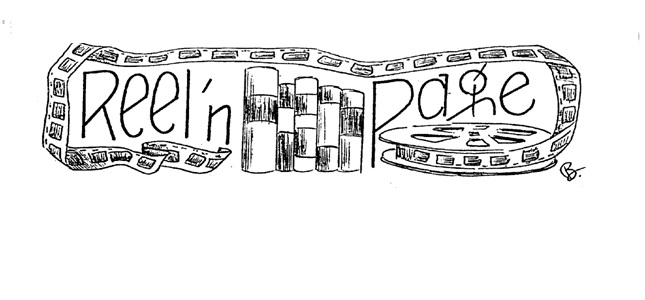 Vol. XXV, no. 2     THE THOMAS J. GARLAND LIBRARY
May 2015
Change of Direction
Following the  makeover of Garland Library's webpages,  initiated in summer 2014, it is now possible for electronic visitors to obtain all of the library's operational news directly from its home page and library blog. Announcements, public performance notices, new database arrivals, tutorials, personnel staff happenings, and so forth are all there chronicled (in living color and often with photographs). Upon reflection, it makes no sense to repeat all of that in a newsletter as we did for most of the first quarter century of this little library magazine.
What is not easily available in one location on the webpages are the library's many statistics.  In every number of the Reel & Page published through the school year, we have in the past provided our most recent usage statistics, occasionally catching up for months unavailable  (lag time for the latest was usually a month or so). Comparison figures between the current school year and that preceding are published in a special May issue.  The 2013-14 comparison is in the May 2014 special edition, found here.  We present the current figures in this issue. Previous years' worth of the newsletter (including statistics) have been maintained and will soon be published in an online archive.
Reel & Page  is now a vehicle devoted exclusively to the promulgation of Garland Library usage statistics. All of the data past readers have found before will be included (except when unavailable), along with a few new items. NA = figures not available. The magazine appears biannually, with the May issue replacing that of the fall allowing a full-year compilation.
YTD Usage Statistics (July through April 2014-2015)
| | Greeneville | Knoxville |
| --- | --- | --- |
| Physical Use | | |
| In House Patrons | 52,259 | 7562 |
| Days Open | 243 | 195 |
| Average Daily Attendance | 215.05 | 38.78 |
| | | |
| Circulation | | |
| Books | 904 | 77 |
| Periodicals | N/A | 5 |
| Reserves | 49 | 20 |
| Media | 60 | 6 |
| E-books | EBSCO e-books: 33,098 Ebrary: 22,526 Total: 55,624 | Greeneville and Knoxville e-books combined |
| Study Room Keys | 654 | N/A |
| | | |
| Reference | | |
| In house | 1,843 | 456 |
| Phone | Distance Education: 21 Residential: 343 | 175 |
| Email | Distance Education: 29 Residential:18 | 47 |
| TOTAL | 2,254 | 678 |
| | | |
| Library Instruction Sessions | | |
| Distance Education | Information Literacy Sessions: 32 Individual: 20 Group (2+): 12 | Information Literacy Sessions: 8 Individual: 28 Group (2+): N/A |
| Residential | Class Visits (no formal IL instruction): 98 Information Literacy Sessions: 77 Individual: 17 Group (2+): 59 | N/A |
| Online Usage | |
| --- | --- |
| Online Usage | |
| Total Website Visits: | 17,135 |
| Database Searches: | 572,460 |
| Community User Logins: | 166 *Greeneville only |
| | |
| | |
| | |
| | |
| | |
| | |
| | |
| | |
| | |