New Website
Why, when, and where is everything?
Over the summer, the library's new webmaster was busily migrating content from the old website to the new one. The new site now uses the same template as the rest of TC, presenting a more unified appearance. Content has also been reviewed and will be updated regularly. In the coming months, certain pages will be updated with new graphics and possibly reformatted, so check back often for updates! Any significant changes to the library's website will be noted in future blog posts or via an announcement on our main page.
While change can be confusing, we would encourage everyone to explore the site and give us their feed back. If you would like a break down of where everything is now, check out this post: I'm lost. Where is Everything?
Once you've had a chance to use the website, we want to know what you think! A brief survey is available in the sidebar on the menu page, or you can access it by clicking here. 
Special thanks goes to the campus webmaster and all of Information Systems for their help and support. You all rock!
Decor
There have been a few aesthetic changes around the library building. When you enter the lobby, you might notice a display and chalkboard signs. Scattered about the stacks are more chalkboard signs with quotes. These are all thanks to our Circulation Coordinator, Lelia Heinbach. Check out these posts to see some examples of her creativity around the library:
Who is this adorable little dragon?
Ku Long (whose name means "library dragon") is the creation of Lelia Heinbach, our Coordinator of Circulation Services. He was inspired by the story of Huang Long (the Yellow Dragon), who presented the first Emperor Fu Xi of China with the gift of writing.
Ku Long's joy in life is to help people find the information they need or to at least point them in the right direction. He is at times silly and playful, but he loves to learn new things and then share that knowledge with others. He is a very curious little dragon, but sometimes he needs a nap. Like a kitten, he will fall asleep in odd places (such as on top of logos or in the corner of pages). He is very young for an Asian dragon, but is quite smart.
Below, you will find his 'quote of the week.' Have a favorite library or book related quote? Let us know! It might end up on a chalkboard or Ku Long may choose it as his quote that week. You can contact us via email at: library@tusculum.edu. Please include the author of the quote and a link to the source (if possible).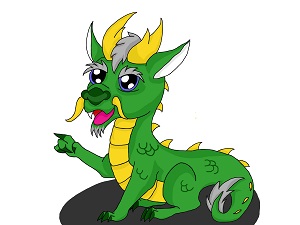 Ku Long's Quote of the Week
"Google can bring you back 100,000 answers. A librarian can bring you back the right one."  – Neil Gaiman
As always, feel free to contact us with any questions or comments you may have. We love hearing from you!