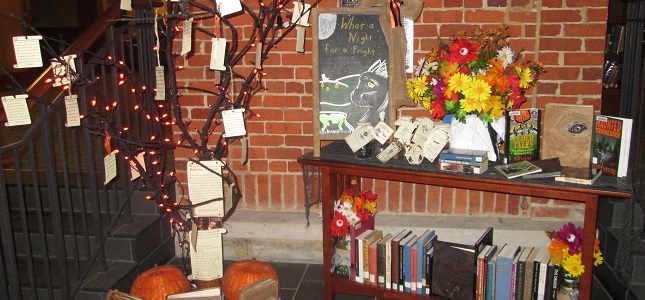 Monster Hunt Winners
There are still plenty of bounty contracts on the tree. Come and see if you can name these elusive beasties!
Want to know more about the Monster Hunt? Check out this post for the rules.
Haints & Boogers – October 27th, 6:00pm – 7:00pm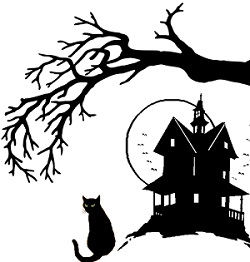 Join us for a night of terrifying tales on Monday October 27th, 6:00pm-7:00pm.
Feel free to stay afterward for some spooky treats!
And, as always, if you have any questions, please contact us.
Want to learn more about ghosts, witches, and monsters of myth and legend?
Try one of these!
You can find them on the display in the Greeneville location lobby, or check your local public library. Many are also available as e-books.
Signet Anthology: Frankenstein, Dracula, and Dr. Jekyll and Mr. Hyde.
The Invisible Man by H.G. Wells.  Also available as an e-book.
Dracula by Bram Stoker. Also available as an e-book.
Elder Tales: Stories of wisdom and courage from around the world by Dan Keding. Also available as an e-book.
Haunted Tennessee by Charles Edwin Price.
Cry "witch": the Salem witch trials, 1692 edited by Juliet H. Mofford.
Tales of Mystery and Terror by Edgar Allan Poe; adapted by Marjorie Katz, illustrations by Pablo Marcos.
Oceanic Mythology: the myths of Polynesia, Micronesia, Melanesia, Australia by Roslyn Poignant
The Ancient Egyptians: beliefs and practices by Rosalie David
Folk religion in Japan; continuity and change Edited by Joseph M. Kitagawa and Alan L. Miller
Ozark Superstitions by Vance Randolph
The Supernatural Omnibus, being a collection of stories of apparitions, witchcraft with an introduction by Montague Summers.
Great tales of terror and the supernaturaledited by Herbert A. Wise and Phyllis Fraser
In search of Dracula: the history of Dracula and vampires by Raymond T. McNally
The man in the iron mask: the true story of the most famous prisoner in history and the four Musketeers by Roger MacDonald
The Cambridge companion to Gothic fictionedited by Jerrold E. Hogle
The fairies in English tradition and literatureby Katharine Mary Briggs
A Clutch of Vampiresby Raymond T. McNally
The Brothers Grimm by Ruth Michaelis-Jena
Gothicby Fred Botting
Hauntings: Mysteries of the unknown by the editors of Time-Life books
Demon in the woods: tall tales and true from East Tennesseeby Charles Edwin Price
Strange tales of the dark and bloody ground: authentic accounts of restless spirits, haunted honky-tonks, and eerie events in Tennessee compiled by Christopher Kiernan Coleman
Haints, witches, and boogers: tales from Upper East Tennesseeby Charles Edwin Price
Gods and myths of the Viking ageby H. R. Ellis Davidson
A guide to the Salem witchcraft hysteria of 1692by David C. Brown
Nightmares and Dreamscapes by Stephen King
The granny curse and other ghosts and legends from East Tennesseeby Janet Barnett and Randy Russell
The infamous Bell witch of Tennessee by Charles Edwin Price
The world on bloodby Jonathan Nasaw
Memnoch the Devilby Anne Rice
Mythology of the British Islesby Geoffrey Ashe
From Asgard to Valhalla: the remarkable history of the Norse mythsby Heather O'Donoghue. Also available as an e-book. 
The Druids by Stuart Piggott