The library currently has trial access to Credo Online Reference Service. The trial will end on December 15th, 2017. 
Click one of the buttons below to go to the database.
Accessing from the Greeneville Campus
If you are on the Greeneville campus lab computers, use the button below:
Accessing from anywhere else
If you are not on the Greeneville campus, or the above link does not work, use this button:

What is Credo Online Reference Service?
Credo has been described as the academic, peer-reviewed alternative to Wikipedia. With thousands of images and over 700 full-text titles, Credo is a perfect place to start your research. Need background information on a topic? Credo has Topic Pages that give a brief overview and links to information from the library's other databases.
Love it? Hate it? Let us know.
We want to hear from you, the one using the library's resources. Our goal is to provide access to quality resources that are relevant to the curriculum. If you have any feedback on this resource, please fill out the brief survey below, or contact Crystal Johnson (cjohnson@tusculum.edu).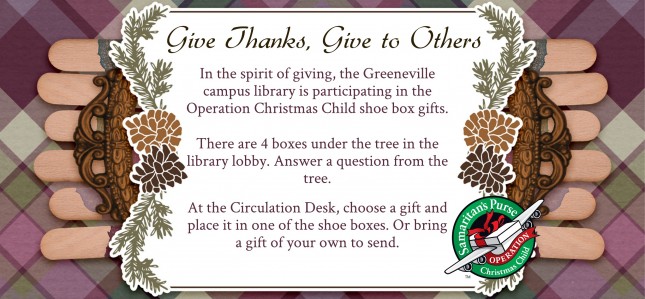 This activity celebrates the giving season and anyone can participate. That includes students, faculty and staff. The only rule is to keep to the giving spirit. Anyone can answer the questions and then pick a prize to place in one of the shoe boxes under the tree. You may also bring in your own gifts if you want.
What is Operation Christmas Child?
The program is done by the Samaritans Purse and they ask everyone to fill a shoe box with gifts for children. They collect the shoe boxes and then ship them all around the world to those less fortunate or unable to have gifts on Christmas. All it takes is a shoe box filled with gifts and a seven dollar donation to cover shipping. We hope you will join us and participate in this program so that we might bring joy to some child overseas.
The shoe boxes need to be filled by November 20th, 2017.
We hope everyone will participate and enjoy this activity.
Have a great Thanksgiving and Christmas break!