The modules below are intended to introduce Tusculum University students to some of the library's online resources. For further instruction or assistance in using any of the library resources, please contact the library via email, phone or visit us in person. A library staff member looks forward to assisting you!
423-636-7320 ext. 5320; library@tusculum.edu
What can the library do for me?
The library has a number of sources to help you with your research. We are available at our University location, as well as online services that are available 24/7. Check out the topics below to learn more about each individual set of services we offer. 
Borrowing Materials
Students can use their Tusculum ID card to check out print materials from the library. Books are due after three weeks and can be renewed two times unless requested by another patron.
Periodicals (print journals and magazines), reference works, materials from Special Collections and reserves are available to use in-house only.
DVDs are available to be checked out for 1 week, limited to one DVD per student, per check out period.
Returning items
Please return items to the Circulation Desk or via the book return near the front entrance.
Overdue notices
Notices are mailed when materials become overdue. Library privileges will be withheld until items are returned or bills paid. If materials are not returned after a second notice, an invoice will be sent from the Business Office assessing the borrower $50 replacement cost per book and $100 per video. Borrowing privileges will be suspended and a hold will be placed to prevent receipt of grades, transcripts, diplomas, and/or paychecks until items are returned or replacement costs are paid. Items declared lost by the borrower or that are returned and determined to be damaged beyond repair must be replaced. The borrower will be assessed replacement costs determined by the library on a case by case basis.
Printing, Copying and Computer Access
Computer Access
Both library locations have computers available for general student use. To log into a library lab computer, please use your Tusculum username and password (the one you use to log in to Canvas or WebAdvisor).
Laptop Loan
The Greeneville library has 5 laptops that can be loaned out to students, faculty and staff for up to four hours at a time. These laptops are for use in the library only and may not leave the building. Please bring your Tusculum identification card when you check out a laptop. All users are required to sign a responsibility form (available at the Circulation Desk) before being loaned a laptop. ID cards will be held at the Circulation desk until the laptop is returned.
If you need to print from your own device, ask a staff member at the Circulation desk for instructions on how to connect to our printer network.
Printing and Copying
The desk attendant will provide instructions for making photocopies or printouts. Photocopies and print outs are 10 cents each. The use of the student photocopier allows the use of change or dollar bills.
Color printing is available for 25 cents per page at the Greeneville campus location. Please bring a flash drive containing the file you wish to print to the Circulation Desk.
Requesting an article or book through Inter-Library Loan
If there is a particular book or article you need that the library does not have, you can request it via Inter-Library Loan. The average waiting period for books or print materials is 2 weeks. For journal articles, which are mostly electronic, please allow 3-7 business days.
Providing as much information as you can on the request item form can help expedite the process. To request an item, use the appropriate form:
Books may be picked up at Garland Library unless other arrangements are made. For alternative delivery options please call (423)636-7320. All borrowed books must be returned to Garland Library by the indicated due date. Borrowers assume full responsibility for the book once they pick it up. If not returned, or returned in a damaged condition, the borrower will be assessed a replacement fee.
Articles are most often forwarded to the borrower via email upon receipt by the library. Please be sure to provide an accurate email address when you submit your request. Electronic articles have no due date.
PLEASE NOTE: The copyright law of the United States (Title 17, U.S. Code) governs the making of photocopies or other reproductions of copyrighted material. Under certain conditions specified in the law, libraries are authorized to furnish a photocopy or other reproduction. One of these specified conditions is that the photocopy or reproduction is not to be "used for any purpose except private study, scholarship or research." If a user makes a request for, or later uses, a photocopy or reproduction for purposes in excess of "fair use," that user may be liable for copyright infringement. This institution reserves the right to refuse to accept a copying order if, in its judgment, fulfillment of the order would involve violation of copyright law. This may apply to software and other non-print formats as well.
Reference Assistance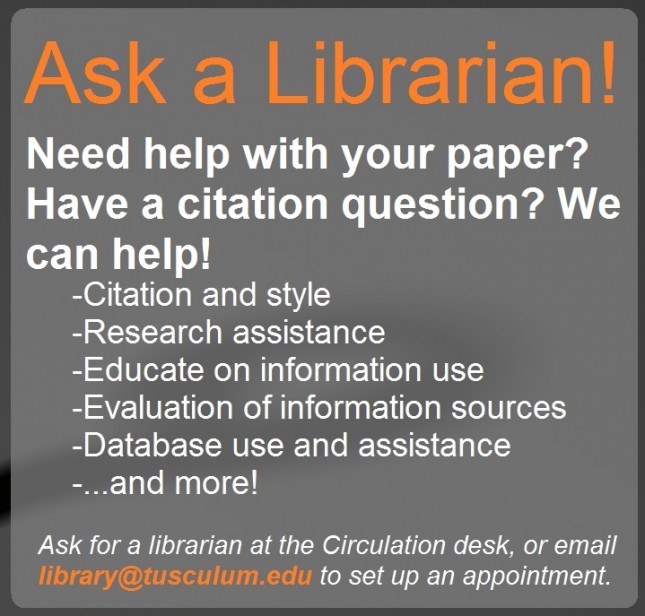 Reference services and individual instruction on the use of library resources are available upon request.  Patrons are encouraged to contact the library with any questions they have regarding the use of library resources, citation help, or general research assistance. A staff member at the Circulation Desk is available to help with general reference questions or to refer you to a librarian if your question requires a full reference session.
One on one sessions may be scheduled with a librarian for specialized assistance, regardless of campus location. Sessions may be conducted in person or over the phone.
You may also contact the library via email (library@tusculum.edu) or use our Ask Us form for online reference assistance. Please allow at least 1 business day for a response.
Persons with Special Needs
Both library locations are accessible to all persons who are in need of special assistance. An elevator is located on the main floor. Library users are encouraged to notify staff of any special assistance needed.
A few words on library etiquette
The area around the library lab computers in both locations is a quiet space. While we encourage group work in the library, please be courteous to others who may be studying around you. Study rooms are available at the Greeneville campus location on a first-come, first-served basis. Click here to view the full policy. 
Turn all cell phones on silent or vibrate. Please take calls outside.
This is a tobacco and smoke-free campus. Please do not bring tobacco products or cigarettes of any kind into the library.
Please do not engage in long social conversations with staff and student workers on duty at the Circulation Desk.
Using Online Library Resources?
Now that you have an idea of what the library can do for you, here are some more detailed tutorials on how to use our online services, such as finding e-books in the catalog, or using some of our databases.

Logging in to use Online Resources
You should be prompted to log in with OpenAthens.
To log in with OpenAthens, select to log in as "Student" or "Faculty/ Staff" and enter your university credentials (Faculty & Staff use the same log in for Canvas/ Students use the same log in for Anthology). 
If you are not prompted to log in with OpenAthens, you will log in with the ACA (Appalachian College Association), this will use your last name for the username and your Tusculum ID# as password, see example below.
Username: last name (example: johnson)
Barcode/Password: lowercase t0000 + 7 digit ID # (example: t00001234567)
Should you forget your ID#, you can find it by logging in to Anthology and looking on your transcript. It should also appear on your registration materials. Library staff cannot give out your ID#. Please contact the Registrar's office if you are still unable to find your ID#. Faculty and staff can also find their ID# on their pay stubs, listed as Employee No.
Please contact the library with any questions or concerns.
Catalog
Accessing & Searching the Catalog: an overview of the library's online catalog to find books and audio/visual materials. 
Databases
Accessing & Using ProQuest Central: an overview of ProQuest Central, including how to access and perform searches using the database.
Accessing & Using Gale: an overview of how to access and perform a basic search using Gale.
Accessing & Using EBSCOhost Web: provides an overview of EBSCOhost Web, how to access individual databases within it and how to perform basic searches.

How to start your research?
Intsructional Video
Research can be difficult at times. It's good to be prepared! The following videos are short and have helpful tips on how to start your search and evaluate the material you find. 
These videos are courtesy of Western University:
Evaluating Information - CRAAP Test
If you are still struggling, please feel free to contact the library for assistance. A librarian would be happy to meet with you one on one to discuss your research needs either by phone or in person. You can always submit your question via our Ask Us form.

Citing sources: Why it's important?
The key to good citation is to provide as much information as possible so that information might be verified by all interested readers. Whenever you use an idea that is not yours, be sure to cite it! The way you cite a source depends on the style of citation your professor prefers. Below are links to APA and MLA, both commonly used at Tusculum.
Style Manual Guidelines
APA – Formatting & Style Guide
The print version of the Publication Manual of the American Psychological Association (APA) 7th edition is available on reserve at the Greeneville campus.
MLA – Formatting & Style Guide
The print version of the MLA style manual and guide to scholarly publishing. is available on reserve at the Greeneville campus.

PLAGIARISM: HOW TO AVOID IT
What is Plagiarism?
The Oxford Dictionary defines plagiarism as "taking someone else's work or ideas and passing them off as one's own." That includes 'accidental' plagiarism, such as improperly paraphrasing or citing a source. This also includes images, video, and music.
How do I avoid it?
Cite your sources! Most acts of plagiarism are unintentional, so it is always a good idea to keep track of any material you are citing in your paper or assignment. Ask your professor or a librarian if you have any questions on how to cite a source.  When in doubt, cite it!
Paraphrasing
Paraphrasing is when you rephrase an idea from a source into your own words. Simply changing a few words in a quote and rearranging the sentences is not a paraphrase. A good paraphrase demonstrates understanding of the material. Something that is improperly paraphrased could be considered plagiarism. For example, we have our source material:
"The purpose of paraphrasing is not to make it seem like you are drawing less directly from other sources or to reduce the number of quotations in your paper. It is a common misconception among students that you need to hide the fact that you rely on other sources. Actually it is advantageous to highlight the fact that other sources support your own ideas. Using quality sources to support your ideas makes them seem stronger and more valid. Good paraphrasing makes the ideas of the original source fit smoothly into your paper, emphasizing the most relevant points and leaving out unrelated information." ("Preventing Plagiarism when writing," Plagiarism.org, 2014)
Bad Paraphrase: Paraphrasing is not to make it seem like you are taking less from other sources or to reduce the number of quotes in your paper. It is a common mistake that you need to hide the fact that you rely on other sources. Using quality sources to support your ideas makes them seem stronger and more valid. Actually it is better to show that other sources support your own ideas. A good paraphrase makes the ideas of the original source fit into your paper. It emphasizes the most relevant points and leaves out irrelevant information.
Why it's bad: Look at the way the paragraph is structured. It's exactly the same as the original quote, with a few sentences moved around. Some words have been changed, but the paragraph still closely resembles the original quote. This is not a legitimate paraphrase because the writer did not demonstrate an understanding of the material. They just restated what the original quote said with a few changes. The paraphrase is not in their own words, but those of the author of the quote. 

Good Paraphrase: Some students may believe that it is better to hide that they rely on outside sources to support their ideas, when in fact using quality sources will validate your ideas and make your paper stronger. Paraphrasing ideas effectively leaves out information that is unnecessary and focuses on the most significant ideas, tailoring the original source material to fit your paper. (Plagiarism.org, 2014)
Why it's good: The writer uses their own words to accurately convey the information from the original quote. The source is cited at the end.
Check out these resources to learn more about what plagiarism is and how you can avoid it.
What is Plagiarism?: an insightful and accessible breakdown of what constitutes plagiarism. Includes information on using images, music and videos.
Plagiarism: How to Avoid It: a video from Bainbridge State College.
We also have links to a number of resources on our Plagiarism Tutorials page.


If you have any questions, please contact the library. 
chat loading…