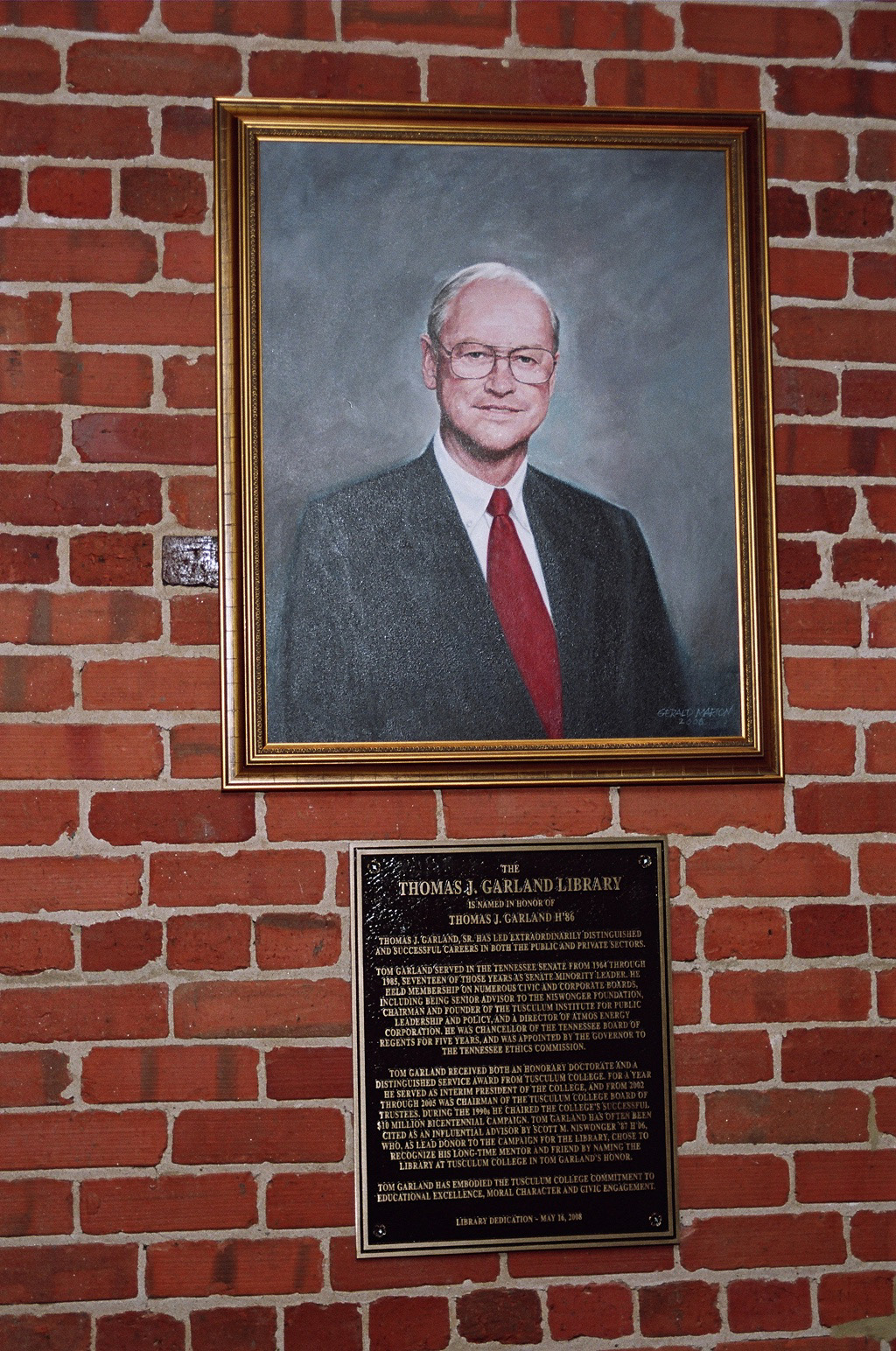 The Thomas J. Garland Library honors a lifelong East Tennessean with a long and illustrious career in state government, higher education and private enterprise. 
Garland is a senior advisor to the Niswonger Foundation, chairman of the Tusculum Institute for Public Leadership and Policy, and a former director of Atmos Energy Corporation. He was the first chairman of the Tennessee Ethics Commission as an appointee of Gov. Phil Bredesen.
Garland has provided leadership to Tusculum College in immeasurable ways, including his service for two separate terms as chairman of the Board of Trustees, his service as interim president of the College in 1999-2000, and his founding of the Tusculum Institute for Public Leadership and Policy. Garland was one of the co-chairmen of the Campaign for the Library fund-raising effort for the expansion and renovation of the facility.
Garland was born in Kingsport, educated in the Kingsport and Oak Ridge school systems, and graduated from East Tennessee State University with a B.A. degree. He received the ETSU Outstanding Alumnus Award in 1973.
His service to his community includes serving as a state senator from 1964 to 1985, 15 of those years as Senate Minority Leader. He served as Chancellor of the Tennessee Board of Regents for five years, overseeing the State University and Community College System. On local and state levels, he has been a leader of dozens of legislative and governmental study groups, has served on numerous nonprofit boards, and chaired the blue ribbon task force that led to the formation of the Greene County Partnership.
Garland has also experienced success in his private sector career. He organized and operated his own businesses and served as an executive with two national banks and as a founder of a state-chartered bank. His service on bank and corporate boards has been frequently sought.
He holds an honorary degree from Tusculum College and was awarded the Distinguished Service Award by Tusculum in 2002.